4 Miniature Relay Series Well Suited for Instrumentation Applications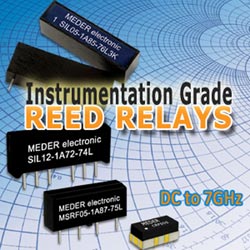 Four relay series make their mark in instrumentation applications and they do so like no other switching technology.  The SIL HV, SIL RF, MSRF and CR Series meet the miniature size and low profile requirements of today's high tech designs, ranging in size from 8.6mm [0.339] to 24.13 [0.950] in length and 3.4mm [0.134] to 8.13mm [0.320] in height.  Designed to eliminate any magnetic coupling effect when stacked in matrices, they are equipped with an internal magnetic shield.  Additionally, each series offers unique switching power and RF signal capabilities ranging up to 7 GHz.
The CR Series is the smallest and most versatile instrumentation grade relay capable of switching signals up to 7 GHz and producing low offset voltages less than 1 microvolt.  Both the 1 GHz MSRF and 1.5 GHz SIL RF are miniature single-in-line relays capable of switching voltages up to 200VDC and 1 amp while maintaining a consistent 100 milli-ohm on state resistance.  Both the SIL RF Series and MSRF Series can provide over 1500 Volts isolation, switch to coil.
The SIL HV series is an excellent high voltage / high current miniature single-in-line relay with a max power rating of 10W, this series can switch up to 1000V and carry up to 5 amps for up to 50 milli-seconds at a consistent repetition rate.  These relays can dielectrically hold off up to 4kVDC across the contacts as well as between contacts and coil.
Links: