Just Released! A Brand New Latching & Form B Reed Relay and Sensor Product Training Video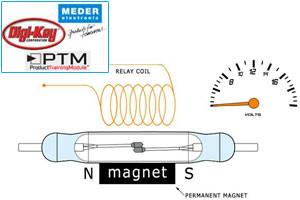 A brand new Product Training Module called "Latching & Form B Reed Relays" featuring  basic techniques used in latching and form B sensor and relay applications is now available at Digi-Key.  This 15 minute PTM can be viewed as an audio or non-audio version.
This PTM will explain and animate the structure and functionality as well as key terms used in describing latching and Form B reed relay and sensor products.
Latching & Form B Reed Sensor and Relay Product Training Module
Links:
dkc1.digikey.com/us/en/tod/Meder/Latching-FormB-Reed-Relays/Latching-FormB-Reed-Relays.html