For more information, see MEDER's new Product Training Module on Digikey.com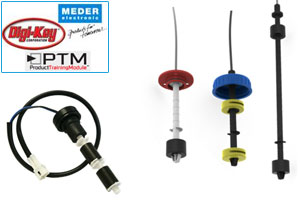 MEDER electronic Inc., manufacturer of precise, reliable, and long-lasting miniature switches, sensors and relays, offers a complete line of liquid level reed sensors, ideal for use in laboratory fluid systems, automotive fluid sensing, aerospace and marine fuel level sensors, as well as a myriad of industrial uses, electrical equipment, and home appliances. MEDER recently launched a product training module on Digikey.com to help users make the best use of liquid level sensors.
As the training module explains, MEDER electronic's liquid level reed sensors are fast becoming the level sensing technology of the future. Reed sensors draw zero voltage and current, using no power until they are energized. With the ability to sit for years without drawing any power, reed sensors are being designed into hundreds of applications where power is scarce. They are ideal for the many battery-driven applications coming on the market.
The all-inclusive MEDER electronic liquid level reed sensor contains the sensing element (reed switch), float, and magnet all as one component. The key component is the hermetically sealed reed switch, which is impervious to outside environments. The switches are then further sealed in rugged plastic with epoxy seals. Stainless steel packaging is also an option. The versatile and rugged reed switch can operate in hot and cold liquid systems with operating temperatures ranging from -40°C to 200°C, and is ideal for use in wet, moist, dirty backgrounds.
The reed switches can be supplied in a variety of switching configurations. Most common is the singular normally open reed switch, but normally closed, latching, single pole double throw, and multiple single pole configurations are available. Available options for the sensing stem and float, which must match the liquid being sensed, include polypropylene, used in water and mild acids, polyamide, best for oil, gas, or brake fluid, and nitrile butadiene rubber, commonly used for oil, gas, and high temperatures.
Liquid Level Sensor Product Training Module
Links:
dkc1.digikey.com/us/en/tod/Meder/LiquidLevel/LiquidLevel.html