New versions can be mounted from the outside…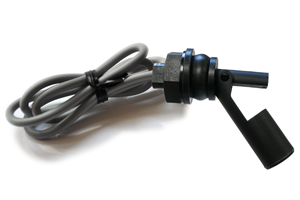 Liquid Level Sensor LS03 (GZ)
Standex Electronics, manufacturer of standard and custom electro-magnetic components, including magnetics products and reed switch-based solutions, announces three new versions of the LS03 liquid level sensor that can be mounted from the outside.  The three models, DL, DK, and GZ, are ideal for liquid container monitoring in household, automotive, test and measurement, and control technology.
The LS03 Series Liquid Level Sensor is a compact standard level sensor used for detecting a single fluid level. The all-inclusive MEDER electronic liquid level reed sensor contains the sensing element (reed switch), float, and magnet all as one component.  The key component is the hermetically sealed reed switch, which is impervious to outside environments. The switches are then further sealed in rugged plastic with epoxy seals.
The DK, suitable for high filling pressure, features a built-in Viton self seal, 22 mm insertion hole and 5 mm narrow sealing, while the DL, suitable for low filling pressure, features a built-in NBR self seal, 22-24 mm insertion hole and 12 mm wide sealing.  The GZ is designed so that no sealing is necessary.
All three models offer a switching voltage of 180V and a switching current of 0.5 A.  The DL and DK models are available in both polypropylene for water applications and dilute acids, and polyamide for oil, gasoline, and brake fluid.  The GZ is available in polyamide.
For detailed technical information, please read the PDF file.