Instead of an actuating magnet, a simple piece of iron will immediately drive the reed sensor to achieve the desired switching functions.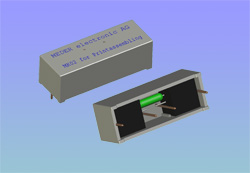 Conventional reed sensors must be actuated by a magnet, which has to be separately mounted from the sensor. This new proximity switch will respond to any magnetically conductive material. When a piece of iron approaches from the above, the sensor will switch on in a distance from 3,5 to 5,5 mm.
As its repeat accuracy and hysteresis are unique, the MK02 Sensor series by MEDER electronic is an alternative to those costly inductive sensors or to micro-switches.
Standard MK02 sensors are delivered with a NO or a NC contact. The switching performance can be achieved up to 10W by maximum 170VDC, respectively 0.5A.
For applications without printed circuit board (PCB), different cable versions will be offered. MK02 sensor with a 4-wire round cable is the right and proper choice for alarm technique applications; thus, a sabotage loop is already available.
Apart from applications in industry, for instance, monitoring in plant construction and vehicle manufacturing, or end-position detection; the MK02 sensors are especially suitable for applications in alarm technique and for monitoring of fire doors.