High performance noncontact reed sensors ideal for low power applications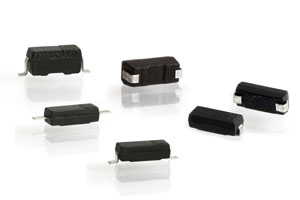 MEDER electronic Inc., a manufacturer of precise, reliable, and long-lasting miniature switches, sensors and relays, announces the availability of the MK24 series of ultra-miniature surface mount reed sensors, ideal for countless low power applications, including portable medical and electronic devices, contact sensors, cell phones, position sensors, telecommunications, and limit switches. The MK24 series offers performance beyond all other reed sensors in its size class, achieving a minimum life expectancy of 50 million operations at 5V, 5mA, 100Hz, while measuring only 5mm x 1.8mm x 2.2mm.
The MK24 is constructed of a rugged over-molded package containing the hermetically sealed reed switch. Requiring no external power to operate, the MK24 is especially suitable for applications with low power and space limitations. They are widely used in electronic printed circuit boards (PCBs) where all components are surface mounted, telecommunication applications, hook switches in mobile and hard wired phones, as well as for microphone switching elements.
The MK24 is available in both normally open and normally closed versions, in five contact sensitivity ranges and three surface mount lead designs – flat straight cut axial lead for PCB mounting; flat, bent SMD gull-wing lead; and J-lead. The sensors are supplied taped and reeled and are suitable for use on pick-and-place component placement systems.