Environmentally sound and rugged aluminum design ideal for extreme conditions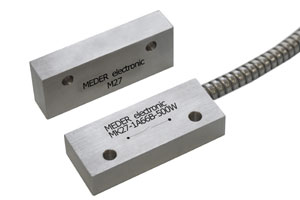 MEDER electronic Inc., a manufacturer of precise, reliable, and long-lasting miniature switches, sensors and relays, introduces its new MK27 magnetically activated reed sensor, equipped with a robust aluminum housing that protects the magnet and sensor from extreme environmental conditions as well as against vandalism or sabotage. The MK27 is ideal for use in alarm systems, position and end position sensing, door and window control, commercial vehicles, engineering, mining, forestry, construction and agricultural machinery.
The MK27 reed sensor is supplied in a set with the mating M27 actuator magnet, which comes already calibrated for industrial uses. The sensor also features a cable insulated with a metal jacket, which provides additional security compared to standard sensors. Designed for screw fastening, the sensor is typically mounted to the fixed surface, while the actuating magnet is mounted on the moving surface. The MK27 is available with switching power from 10-100W, switching voltage from 200-1000 VDC, and switching current from 0.5 to 1.0 amps.
Product Spotlight: Reed Sensor MK27 with Magnet M27