Ideal for position and limit switches, security, and level sensor applications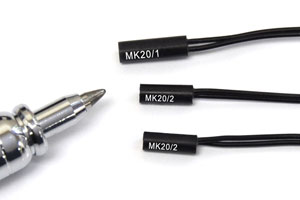 MEDER electronic Inc., manufacturer of precise, reliable, and long-lasting miniature switches, sensors and relays, announces the availability of the MK20 series of proximity sensors, magnetically operated reed switches in a cylindrical module, fitted with interconnect cable. The MK20 series is small in size and ideal for position and limit switches, door and window security system applications, and for water level detection in coffee makers, washing machines, or dishwashers. The series is offered in a choice of cables, connectors, and colors.
Available in contact form 1A , the MK20 series comes in three operating sensitivities: class B (10-15 Ampere-turns (AT)); class C (15-20 AT), and Class D (20-25 AT). Model MK20/1 measures 10 mm by 3 mm, and offers zero to 10 watts (W) of related power and switching voltage of zero to 80 volts of direct current (VDC). Model MK20/2 measures 7.5 mm by 2.7 mm, with switching voltage of zero to 30 VDC.
The sensor is designed to be mounted on the fixed surface, with the actuating magnet on the moving surface. The MK20 series fully complies with the Restriction of Hazardous Substances (RoHS) directive.