New module introduces basics of RF and reed relays' role in RF switching applications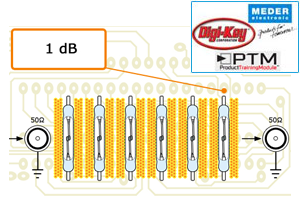 "Reed Relay as an RF Switch" Product Training Module
Standex Electronics, a manufacturer of standard and custom electro-magnetic components, including magnetics products and reed switch-based solutions, announces the release of a new product training module, "Reed Relay as an RF Switch," produced in cooperation with its distributor Digi-Key.  Digi-Key Corporation, recognized by design engineers as having the industry's largest selection of electronic components available for immediate shipment, provides product training modules in order to introduce the latest products and technologies to interested design engineers.
"Reed Relay as an RF Switch" serves as an overview of reed relays' role in RF switching applications, and also provides an introduction to basic RF principles. As the training module explains, Standex Electronics reed relays are quickly becoming the design-in choice for attenuating RF signals, due to their excellent RF characteristics.  High frequency reed relays can carry RF signals from DC up to 20 GHz , as well as fast digital pulses with skew rates less than 20 picoseconds.  Coupled with a long lifetime in the billions of switching operations, these characteristics have made high frequency reed relays an increasingly important part of RF switching applications.
Additional topics covered in the training module include the basic characteristics of RF signals, how they can be affected by various elements of a circuit, and how RF relates to fast digital pulses.  The module will also discuss RF continuous wave parameters, including insertion loss, isolation, characteristic impedance, Voltage Standing Wave Ratio (VSWR), and return loss, as well as the additional conditions and parameters for fast digital pulse, such as rise time and slew rate.
For more information, or to view the Product Training Module, please visit http://dkc1.digikey.com/us/en/tod/Meder/Reed-Relay-RF-Switch/Reed-Relay-RF-Switch.html