Just Released! A Brand New Reed Switch Magnet Interaction Product Training Video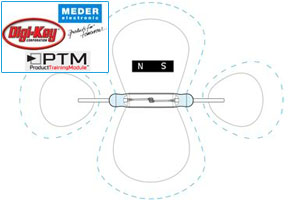 A brand new Product Training Module called "Reed Switch Magnet Interaction" featuring basic techniques used in reed switch and magnet interaction for sensor applications is now available at Digi-Key.  This 20 minute PTM can be viewed as an audio or non-audio version.
This PTM will explain the structure and functionality as well as key terms used in describing reed switch and magnet interactions.  Various magnet position and movement is illustrated or animated with their corresponding magnetic lobes including rotational interaction.
Reed Switch Magnet Interaction Product Training Module
Links:
dkc1.digikey.com/us/en/tod/Meder/Reed-Switch-Magnet-Interaction/Reed-Switch-Magnet-Interaction.html