New line of flood prevention switches ideal for commercial and residential HVAC/R applications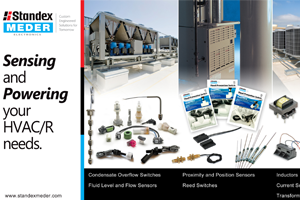 Standex Electronics at AHR Expo 2013
Standex Electronics, a global manufacturer of reed switches, sensors, relays and magnetics, will be showcasing a new line of flood prevention switches at the 2013 AHR Expo. The 65th International Air-Conditioning, Heating, Refrigerating Exposition will be held January 28-30, 2013 at the Dallas Convention Center, Dallas, TX, Booth #4249.
Standex Electronics's new line of low voltage flood prevention switches (FPS) safeguard HVAC/R environments from condensate overflow buildup, and are ideal for commercial and residential HVAC/R applications. With tee, elbow, and bracket models available to accommodate any application, each FPS model is easy to install on either primary or auxiliary drain plugs and easily accessible for service. Compliant with UL508 and applicable NEC codes, and manufactured of materials that will not rust or stick, the FPS operates smoothly and reliably every time. Additionally, Standex Electronics will have packaged flood prevention switches available for sampling purposes during the course of the show.
Also on display is a range of fluid level and flow sensors, as well as position and proximity sensors for HVAC applications. Stop by the booth to see how Standex Electronics's unique and patented production process produces very small reed switches which offer great performance when incorporated into these sensors.
Floats are coupled with precise magnetic reed switches that actuate precisely at specific flow levels. Standex Electronics reed sensors help solve condensation overflow problems and feature reliable operation over a wide temperature range. Proximity and position sensors include door-ajar safety switches and other features. The Standex Electronics's sensors are packaged for surface mounting as well as through-hole mounting. Cylinder and screw fastening packages with lead wires are ideal for remote attachment to electronics.
Rounding out the wide variety of Standex Electronics products at the Expo are rugged and reliable magnetic components, including transformers designed to power all types of residential and commercial HVAC/R system equipment.
Standex Electronics engineers dig deeply into a customer's process to understand it completely, and then design products to meet the required parameters. To be exhibited at the booth are power transformers and inductors (including planar transformers) and current sense transformers.
Finally, Standex Electronics's hermetic motor connectors, terminals and wire assemblies will also be on display. Connector harnesses and custom packaging speed the assembly and installation of HVAC/R equipment, saving time and labor costs while ensuring the success of our customers' products.
Download HVAC/R Application Product Literature
---
About Standex Electronics
Standex Electronics is a worldwide market leader in the design, development and manufacture of standard and custom electro-magnetic components, including magnetics products and reed switch-based solutions.
Our magnetic offerings include planar, Rogowski, current, and low- and high-frequency transformers and inductors. Our reed switch-based solutions include Meder, Standex and KOFU brand reed switches, as well as a complete portfolio of reed relays, and a comprehensive array of fluid level, proximity, motion, water flow, HVAC/R condensate, hydraulic pressure differential, capacitive, conductive and inductive sensors.
We offer engineered product solutions for a broad spectrum of product applications in the automotive, medical, test and measurement, military and aerospace, as well as appliance and general industrial markets.
Standex Electronics has a commitment to absolute customer satisfaction and customer-driven innovation, with a global organization that offers sales support, engineering capabilities, and technical resources worldwide.
Headquartered in Cincinnati, Ohio, USA, Standex Electronics has nine manufacturing facilities in seven countries, located in the United States, Germany, China, Hong Kong, Mexico, the United Kingdom, and Canada.
For more information on Standex Electronics, please visit us on the web at www.standexmeder.com.
Links: