Takes the guess work out of the sensor design process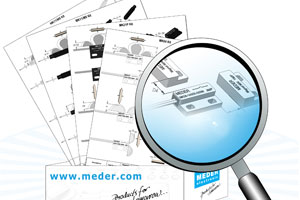 MEDER electronic Inc., manufacturer of precise, reliable, and long-lasting miniature switches, sensors and relays, announces the release of four new reed sensor and magnet design and evaluation kits, which take the guesswork out of the sensor design process. Ideal for designers who want to start designing without waiting for samples, the new RoHS-compliant kits provide quick and convenient evaluation of high demand and widespread use reed sensors for just about any application requiring liquid level monitoring, position and end limit detection, and counting and presence sensing.
Designed by engineers for engineers, the kits streamline the sensor system design process. Using MEDER's proprietary 3-D magnetic mapping equipment to accurately map out the activation distances for 5 different position and movement configurations of each sensor, along with its corresponding magnet, the kits are perfect for evaluating sensor design options.
Choose from four evaluation kits, carefully selected for their popular demand, widespread use, and convenient mounting options. Each kit contains three like reed sensors SPST Form A-normally open, in 3 different sensitivity classes, along with a mating actuator magnet in a matching sensor housing, a standard stripped and tinned 500-millimeter cable, and printed actuation diagrams and instructions.
Kit options include rectangular screw fastening/miniature (model MK04-Kit); rectangular screw fastening/rugged (MK21P-Kit); cylindrical M8 threaded mount/plastic (MK11/M8-Kit); and cylindrical M5 threaded mount/stainless steel (MK11/M5-Kit).
Reed Sensor / Magnet Design Eval Kits

Links:
standexelectronics.com/fileadmin/meder/pdf/en/other_brochures/PS_Sensor_Eval_Kits.pdf