Drop-in replacement SIL ideal for very close stacking matrices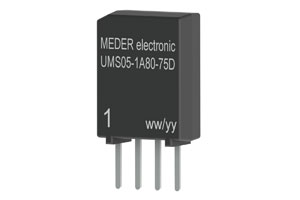 MEDER electronic Inc., a manufacturer of precise, reliable, and long-lasting miniature switches, sensors and relays, announces the availability of the new UMS series of Micro Single-In-Line (SIL) Reed Relays, ideal for use in test systems and closely stacked matrices applications in the test and measurement, telecommunications, and security industries. As a drop-in replacement SIL relay, the UMS series requires less PCB space than other options on the market.
At only 9.5 x 3.6 x 6.85mm, the UMS relays are about half the size of the standard MS series, but offer the same electrical characteristics as their larger SIL relay equivalent. Specifically designed with a slim molded body and internal magnetic shield, the UMS relays can be used in very closely stacked matrices often required in test and measurement applications.
In addition to the internal magnetic shield, the UMS relays also contain an internal diode used to protect the integrated reed switch. The UMS series reach a contact rating of up to 10W, with a maximum switching voltage of 170V. They carry current of 1A maximum.
Product Spotlight: UMS Reed Relays